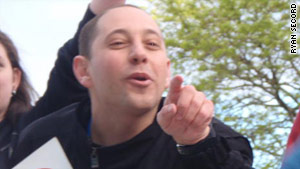 Andrew Shirvell "repeatedly violated office policies, engaged in borderline stalking behavior and inappropriately used state resources," Cox said.

The lawyer for Chris Armstrong, the university's student body president, lauded the decision by Cox to axe Shirvell.

"It's inexplicable — he knows nothing about Chris," attorney Deborah Gordon said on CNN's "AC 360" about Shirvell, who claimed that Armstrong was a "racist, elitist liar" and "privileged pervert."

"We're very gratified that justice was done … and, for the time, Shirvell is going to be held responsible," Gordon said.

Shirvell's lawyer, Philip J. Thomas, acknowledged his client's termination to CNN but did not comment further. He told the Detroit Free Press that his client was "devastated" by Cox's announcement, claiming that Shirvell's bosses gave him positive reviews and knew of his activities outside work.

"This smells political to me," Thomas told the newspaper. "There's been a tremendous piling-on against Andrew. The liberal media started this tempest in a teapot."

Gordon responded by telling CNN's Anderson Cooper on Monday night that she felt it was "pathetic and lame for (Shirvell) to be whining about being bullied."

In late September, Cox defended Shirvell's authoring of a blog titled "Chris Armstrong Watch" that railed against the college senior and sociology major.

"Here in America, we have this thing called the First Amendment, which allows people to express what they think and engage in political and social speech," Cox told CNN. "He's clearly a bully … but is that protected under the First Amendment of the United States Constitution? Yes."

But in Monday's announcement, Cox said he concluded that Shirvell's dismissal was warranted due to actions "unbecoming a state employee" that went beyond the blog.

Cox said he wasn't firing Shirvell for "exercising … First Amendment rights, (however) unpopular (the) positions might be," but for persistent and personal harassment.
According to Cox, Shirvell showed up at Armstrong's home three times — including once at 1:30 a.m. Cox said that this early morning visit, especially, showed that Shirvell was intent on harassing Armstrong, not just exercising his right to free speech
I vigorously defend the First Amendment, but damn, it's about time for this asshat to get canned.